Your neighborhood doctor's office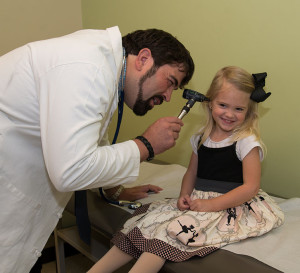 We live in a different world today, and urgent care centers like MedNow are becoming the neighborhood doctor's office, staffed with caring physicians, friendly staff, and the x-ray and laboratory equipment necessary to handle most of your needs in one stop.
MedNow Urgent Care centers are immediate minor treatment clinics with extended office hours offered seven days a week. We are here when your doctor's office is closed or unable to fit you into their hectic schedule. You don't have to wait in an emergency room for hours; in most cases, you can be in and out of our office in less than an hour!
At MedNow, we treat urgent, NON-life threatening emergencies such as lacerations, fractures, sore throats, ear aches, sciatic pain, sport injuries, asthma issues, pharyngitis, sinusitis, etc. We also perform school physicals, immunizations, employee physicals, and more.
MedNow Urgent Care also offers a variety of non-urgent patient care services including treatment for allergies, arthritis, bronchitis and chronic pain, as well as, pediatric care, workers comp clearances, vaccinations and much more.
Our urgent care centers are equipped with state-of-the-art digital x-ray equipment, and we offer many lab services in-house and rapid turnaround on many others.
MedNow

Urgent Care Medical Services Include:
Abdominal discomfort/pain
Allergic reaction
Arthritis
Asthma and breathing treatments
Back pain
BP check
Bronchitis
Constipation
Cough
Diarrhea
DOT Physicals
Dressing change
Ear/Nose/Throat

EKGs

Flu vaccines
Gynecological issues
Headache
High Fever
Immunization
IV Fluid Therapy
Joint pain/Minor fractures
Laboratory reevaluation
Minor Musculoskeletal trauma

Monospot

Test
Nausea/Vomiting
Orthopedic problems
Pap-smear, cultures
Pediatrics Assessments
Pregnancy Testing
Quick Strep
Rashes/Itch
School/Employee physicals
Sexually Transmitted diseases
Sore throat
Splinting/ taping
Sport injuries
Suturing/ laceration treatment
Upper respiratory tract infection
Urinary tract infection
Vomiting
Workers Comp
Wound/ Burn care
X-rays
The State of Georgia requires all students to have a standard sports physical before participating in high school athletics. We provide these physicals at MedNow for an affordable fee, without an appointment. Bring in you school's form or download the state's Pre-participation Evaluation Form, and fill out the appropriate sections before you arrive. We'll conduct the physical right then and sign the clearance form to get you on the field or court quickly. If you are under the age of 18 and plan to arrive without a parent or guardian, then download the Authorization to Treat form and have your parents or guardian sign it before you come in for the physical.
At MedNow Urgent Care, we have an on-site laboratory for quick results for blood-work, urinalysis, and other vital diagnostics. For most tests, we can provide immediate results, however, for a select few specialty diagnostics, we will collect the sample in-house and forward to a reference lab with fast turnaround.
Lab Tests and Diagnostic Capabilities:
Mononucleosis
Rapid Strep
Blood Glucose
Influenza A/B

CBC

Blood Count
Urinalysis
Drug and Alcohol Testing
Cardiac Panel
Chemistry Analyzer
Pregnancy
Sexually Transmitted  Diseases (collection on-site and  forwarded to reference lab)
EKG
Drug/Alcohol Testing
Using our state-of-the-art digital equipment, we can take X-rays and immediately determine if you have a fracture, growth or other illness or injury that might be the cause of your problem. We can suture, set bones and stabilize a sprain or strain in our office, and even fill most common prescriptions so that you can get on the road to recovery quickly.