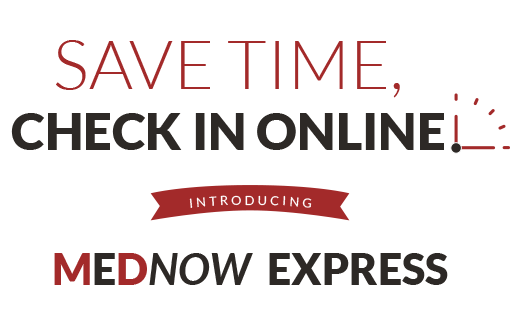 Urgent care on your schedule!
When you need urgent care for minor illnesses or injuries, you can wait in the comfort of your home. With MedNow Express, simply use your computer, tablet or phone to select a time that works in your schedule and save your spot in line!
Washington Road

North Belair

Lewiston Road

Peach Orchard

Wheeler Road

Thomson

Washington GA

Why use online check in?
It's free and convenient
Wait from the comfort of home
Plan our visit on your schedule
Access from any device on-the-go or at home
We're here for when you need care… now!
MedNow is locally owned and operated by Dr. Mark Newton, M.D., a board certified emergency medical physician. He and his staff are committed to delivering a higher level of prompt, personal, and professional care.
Strokes, heart attacks, and major trauma are priorities for hospital emergency rooms. For most other treatments, you can save valuable time and money by opting for immediate treatment at an urgent care clinic like us. At MedNow, your care is our top priority. With one-stop urgent care services for you and your family, we are here to help with all acute illness and injuries. Our expertise and convenience is available seven days a week!
Learn More About Online Check-in
Is my reservation time a guarantee?
No, it is not. The urgent care will do its best to see when you arrive, but if there are sicker patients ahead of you, they may be seen first.
What does this service cost?
Nothing. It is absolutely free for patients.
Can I use Online Check-in even if I do not have insurance? What about Medicare or Medicaid?
Online Check-in is free for everyone. It does not matter what insurance you have or whether you do not have any.
Can I make one reservation for multiple people?
No. We can only see one patient per time slot. If more than one person needs to be seen, please reserve additional slots. You can view additional times by clicking on the blue drop down bar.
When I arrive, will I see a doctor right away?
You will be seen by a healthcare professional who will evaluate your condition and decide on the best course of action for you. You may be seen by a nurse, physician, physician assistant, or some other combination of healthcare professionals.
What if I make a reservation, and then start feeling a lot worse?
If you are feeling worse, do NOT wait for your reservation. Go to the nearest Emergency Department immediately or call 911 right away.
What happens if I'm late?
There is a 15 minute grace period. If you are later than that time frame, you may lose your spot in line.
I made a reservation, but now I cannot get there on time. Can I adjust my time?
Simply go online and make a new reservation. The system will automatically cancel your old one.
I don't need to go to the Urgent Care anymore. How do I cancel my reservation?
Call us at 706-922-6578 to let us know you are canceling your Online Check-in reservation.
*Because our urgent care staff must treat patients based on the severity of illness or injury, your time is not guaranteed. We will see you as close to your designated time as possible.
If you believe you are experiencing a life-threatening emergency, please call 911 or go to the nearest Emergency Department as soon as possible. (these can be small and at the bottom as disclaimers)